Biography/ CV
About the artist: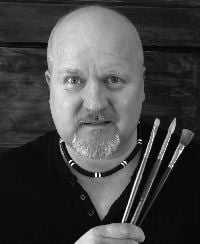 Bryan Hible - born in Sheffield, England in 1965, and now living and working in Nottingham - has been painting in acrylics for around thirty years and produces work in a realist style. He has a very eclectic range of subject interests, with modern still-life and portraiture perhaps dominating.
After many years of 'hobby' painting, considered by Bryan to be his art education, he began painting full-time in 2009 and quickly established a professional reputation, having work accepted into numerous exhibitions around the UK and securing representation with various independent UK galleries. His paintings have sold around the world and are now being sought after by collectors, with work in public and private collections. After shortlisting in 2011, Bryan won the 2013 Richard Attenborough Award, given by Leicester Museums for his painting "Happy Hoodie Spots A Ship". The piece was also purchased by the museum for their public collection.
Bryan accepts commission work, as time allows, and is currently working on various personal projects, predominantly the series 'Life's a Game', which depicts ultra close-up views of board games in progress. Due to the scale involved and the utilisation of dramatic lighting, which focusses attention on a small area, the viewer is transported into the game and is invited to see aspects of human life being played out on the game board.

Gallery representation:
Contemporary Six Gallery, Manchester (tel - from UK: 0161 835 2666, from overseas: +44 161 835 2666)
Tallantyre Gallery, Morpeth (tel - from UK: 01670 517214, from overseas: +44 1670 517214)
Awards and recognition:
Finalist - Art Kudos International Juried Exhibition 2016 - 'The Weight Of The World'
Finalist - Art Kudos International Juried Exhibition 2015 - 'Ich Habe Es Getan'
Winner - 'The Artist' magazine People's Choice Award, Patchings 2014 Exhibition - 'Happy Hoodie Takes Tea'
Finalist - Art Kudos International Juried Exhibition 2014 - 'Working For The Rat Race'
Winner - Solo Exhibition Prize, Thoresby Gallery 101 Pictures Exhibition - 'Risky Business'
Highly Commended - Art In The Gardens 2013, Sheffield - 'Best Years'
Finalist - Art Kudos International Juried Exhibition 2013 - 'Liberty Ship'
Winner - Richard Attenborough Award 2013 - 'Happy Hoodie Spots A Ship'
Winner - Leicester Museums and Galleries Trust Purchase Prize - 'Happy Hoodie Spots A Ship'
Finalist - Art Kudos International Juried Exhibition 2012 - 'Walking The Dog'
Finalist and Highly Commended (Still Life) - Artists & Illustrators Artist of the Year 2011 - 'Henderson's With Pepper'
Finalist - Art Kudos International Juried Exhibition 2011 - 'Cruising'
Best In Show - Great Sheffield Art Show 2011 - 'Fat Cat Gets Bird III'
Shortlisted - Richard Attenborough Award 2010 - 'Dilemma'
Winner - Contemporary Art Award 2010, Thoresby Gallery - 'Dilemma'
Work exhibited:
Work exhibited:
Evergreen Art Café, Daventry
Contemporary Six Gallery, Manchester
Tallantyre Gallery, Morpeth
Under £500 exhibition, Tallantyre Gallery, Morpeth
A Little Painting Show, OA Studios, Salford
Evergreen Art Café, Daventry
Contemporary Six Gallery, Manchester
Tallantyre Gallery, Morpeth
Artifex Gallery, Sutton Coldfield
Affordable Art Fair, Battersea, London (represented by Tallantyre Gallery)
Affordable Art Fair, Hampstead, London (represented by Tallantyre Gallery)
Alpha Art Gallery, Edinburgh
Evergreen Art Café, Daventry
Contemporary Six Gallery, Manchester
Tallantyre Gallery, Morpeth
Artifex Gallery, Sutton Coldfield
Affordable Art Fair, Battersea, London (represented by Tallantyre Gallery)
Affordable Art Fair, Bristol (represented by Tallantyre Gallery)
Summer Exhibition, Byard Art, Cambridge
Affordable Art Fair, Hampstead, London (represented by Tallantyre Gallery)
Alpha Art Gallery, Edinburgh
Evergreen Art Café, Daventry
Gallery re-launch exhibition, Contemporary Six Gallery, Manchester
Tallantyre Gallery, Morpeth
Under £500 exhibition, Tallantyre Gallery, Morpeth
Affordable Art Fair, Battersea, London (represented by Tallantyre Gallery)
Autumn Exhibition, Biscuit Factory, Newcastle
Art Kudos International Juried Exhibition 2016
Glasgow Art Fair (represented by Alpha Art Gallery)
Summer show, Tallantyre Gallery, Morpeth
Alpha Art Gallery, Edinburgh
'Still, Still Life' exhibition, Shire Hall Gallery, Stafford
Evergreen Art Café, Daventry
Contemporary Six Gallery, Manchester
Tallantyre Gallery, Morpeth
Christmas group show, Contemporary Six Gallery, Manchester
Winter show, Tallantyre Gallery, Morpeth
Affordable Art Fair, Battersea, London (represented by Tallantyre Gallery)
Art Kudos International Juried Exhibition 2015
Group exhibition - Darren Baker Gallery, London
Artists & illustrators Artists of the Year Exhibition, Mall Galleries, London
Take To Art, Lichfield
Evergreen Art Café, Daventry
Contemporary Six Gallery, Manchester
Art Exposure Gallery, Glasgow
Christmas group show, Contemporary Six Gallery, Manchester
101 Pictures, Thoresby Gallery, Thoresby Estate, Newark
Affordable Art Fair, Bristol (represented by Take To Art)
Art Kudos International Juried Exhibition 2014
Summer Exhibition, group show, Contemporary Six Gallery, Manchester
Great Sheffield Art Show - The Octagon, Sheffield
Patchings Festival Artist Exhibition, Nottingham
Take To Art, Lichfield
5.1.6 The Gallery, Glasgow
Solo show "Life's A Game" - Thoresby Gallery, Thoresby Estate, Newark
Evergreen Art Café, Daventry
Contemporary Six Gallery, Manchester
Art Exposure Gallery, Glasgow
Affordable Art Fair, Battersea, London (represented by Art Exposure Gallery)
101 Pictures, Thoresby Gallery, Thoresby Estate, Newark
Art In The Gardens, Sheffield
Art Kudos International Juried Exhibition 2013
Great Sheffield Art Show - The Octagon, Sheffield
Group show 'Realism' - The Gallery, Liverpool
Thoresby Gallery, Thoresby Estate, Newark
Bespoke Art gallery Spring Art Fayre at House For An Art Lover, Glasgow
Leicester Open24 - New Walk Museum and Art Gallery, Leicester
Evergreen Art Café, Daventry
Contemporary Six Gallery, Manchester
Art Exposure Gallery, Glasgow
Edinburgh Art Fair (represented by Art Exposure Gallery)
Affordable Art Fair, Battersea, London (represented by Art Exposure Gallery)
Buy Art Fair, Manchester (represented by Contemporary Six Gallery)
Art In The Gardens, Sheffield
Art Kudos International Juried Exhibition 2012
Great Sheffield Art Show - The Octagon, Sheffield
Thoresby Gallery, Thoresby Estate, Newark
Glasgow Art Show (represented by Art Exposure Gallery)
Winter exhibition - Clock Tower Gallery, Sheffield
Contemporary Six Gallery, Manchester
Art Exposure Gallery, Glasgow
Edinburgh Art Fair (represented by Art Exposure Gallery)
Leicester Open23 - New Walk Museum and Art Gallery, Leicester
Buy Art Fair, Manchester (represented by Contemporary Six Gallery)
Contemporary Six Gallery, Manchester
Affordable Art Fair, Battersea, London (represented by Art Exposure Gallery)
Group show - The Gallery, Liverpool
'Conflict' - Thoresby Gallery, Thoresby Estate, Newark
Art Kudos International Juried Exhibition 2011
Great Sheffield Art Show - The Octagon, Sheffield
Solo show 'Life's A Game and Other Clichés' - Clock Tower Gallery, Sheffield
Art Exposure Gallery, Glasgow
Midlands Open 2010 - Tarpey gallery, Castle Donington
Three5 Contemporary Gallery, Limassol, Cyprus
Batley Art Gallery, Batley
Leicester Open22 - New Walk Museum and Art Gallery, Leicester
Braewell Galleries, Edinburgh
Group Show - Phoenix Centre Arts Studios, Glasgow
Haworth Gallery, Haworth Hall, Accrington
Thoresby Gallery, Thoresby Estate, Newark
Summer Exhibition - Clock Tower Gallery, Sheffield
Midsummer Madness -Cupola Gallery, Sheffield